Introduction of automatic steel packing machine
Here is an industrial-specific automatic steel packing machine, which is different from the hand-held battery-type steel bar baler. It is a truly industrialized and fully automatic steel packing machine.Automatic steel packing machine, also known as strapping machine, is to use strapping straps to bundle products or packages, then tighten and combine the two ends by hot-melt bonding,mainly used for non-ferrous metal, steel enterprises bundle various specifications of pipe, profile, ingot, plate and other products.The function of the automatic steel packing machine is to reinforce the packaged items, so that the items will not be scattered due to poor binding during the handling process and storage, and at the same time, the packing should be neat and beautiful.
Automatic steel packing machine performance index
1. Bundling diameter range:Φ100~Φ400
2. Bundle bale weight:1500KG-4000KG
3. Bundle bale shape:round
4. Suitable steel specification:deformed steel bar, (Φ10~140)round bar
5. Bundling object temperature:≤300℃
6. Bundling wire material and specification:Q195,specification is Φ5.5~7(recommend Φ6.5)green rod
7. Bundling type:single wrap, single knot
8. Knot angle:630°
9. Single track bundling time:7~12 seconds
10. Working temperature:-10℃-40℃
11. Control mode:manual and automatic with the function of interlocking communication with the production line
12. Installation weight:~4tons
13. Power supply:three-phase four-wire AC380V+PE 50HZ
14. Installed gross capacity:16KW
15. Contour size of the unit:3600x1250x2050
Automatic steel packing machine feature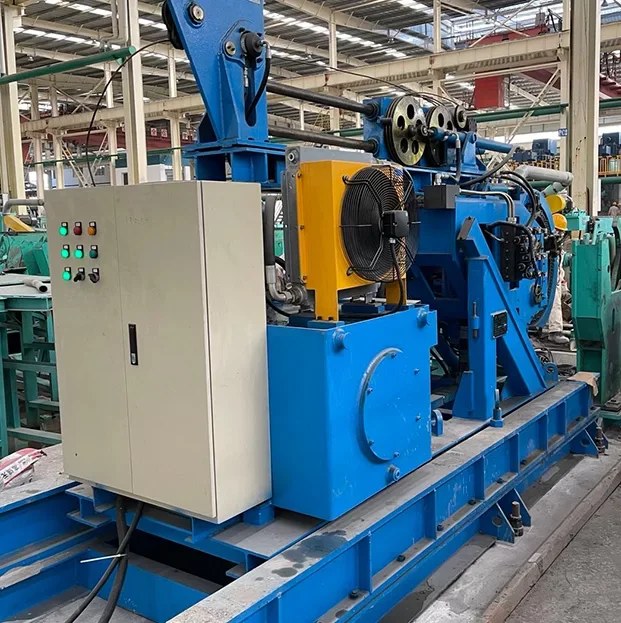 1. Lift cover type panel, easy maintenance.
2. New electric heating device, fast heating, long service life.
3. Single chip electronic control, complete functions, easy operation.
4. Four bundling methods to ensure a wide range of customer bundling requirements.
5. Low cost of packing string.
The fully automatic steel packing machine meets the bundling needs of various products in the factory and greatly improves the efficiency of industrial production.Automatic steel packing machine Manual bundling and cutting the belt is done at one time. Easy to service, easy to access and only a few parts to change. Damaged parts can be replaced by customers themselves. With ergonomic design, the body is well balanced, and the bandwidth and cutter can be adjusted arbitrarily.