In recent years, most of the employees have continued to work from home. The biggest advantage of working from home is freedom. You can stand and sit as you want. However, working from home for a long time, commuting time is gone, and the range of walking is also reduced. After sitting for a long time, the cervical and lumbar spine will also feel uncomfortable. More and more people are starting to buy their own homework artifacts, so how can there be no standing desks and some homework artifacts?
Do I really need a standing desk?
The harm of sitting for a long time is really countless. Even if the cervical and lumbar spine is not tired or painful, if it is not properly protected, the accumulated damage may break out. Stand using the computer, adjust it to a suitable angle, you don't need to lower your head very low when looking at the computer, and relax your lumbar spine.
Many people can clearly feel that using a computer while standing can greatly improve cervical pain. Also, sometimes I want to stand after lunch, but I have to do things on the computer, so I have to sit down. If you want to work at the same time, you can stand to digest food, or sit and work for a long time, the height adjustable desk can perfectly realize the work without sitting for a long time.
How to choose a suitable standing desk?
How to choose the right standing desk for you depends on your needs first:
1.What is the required table size/area?
There are many options for the size of the standing desk and the table area. There is a simple and small lifting board, suitable for increasing the height on the book, and can put a laptop, small and easy to store. There are also more advanced double-layer portable lift tables, which can place more things. There are also normal desks of similar size, which are directly used as desks, that is, independent lifting desks. When it comes to the area, generally it is enough to place only one display screen + a laptop of 46-48 inches, but if you want to place 2-3 monitors, you must consider 55-60 inches, which must be bigger and more suitable for storage.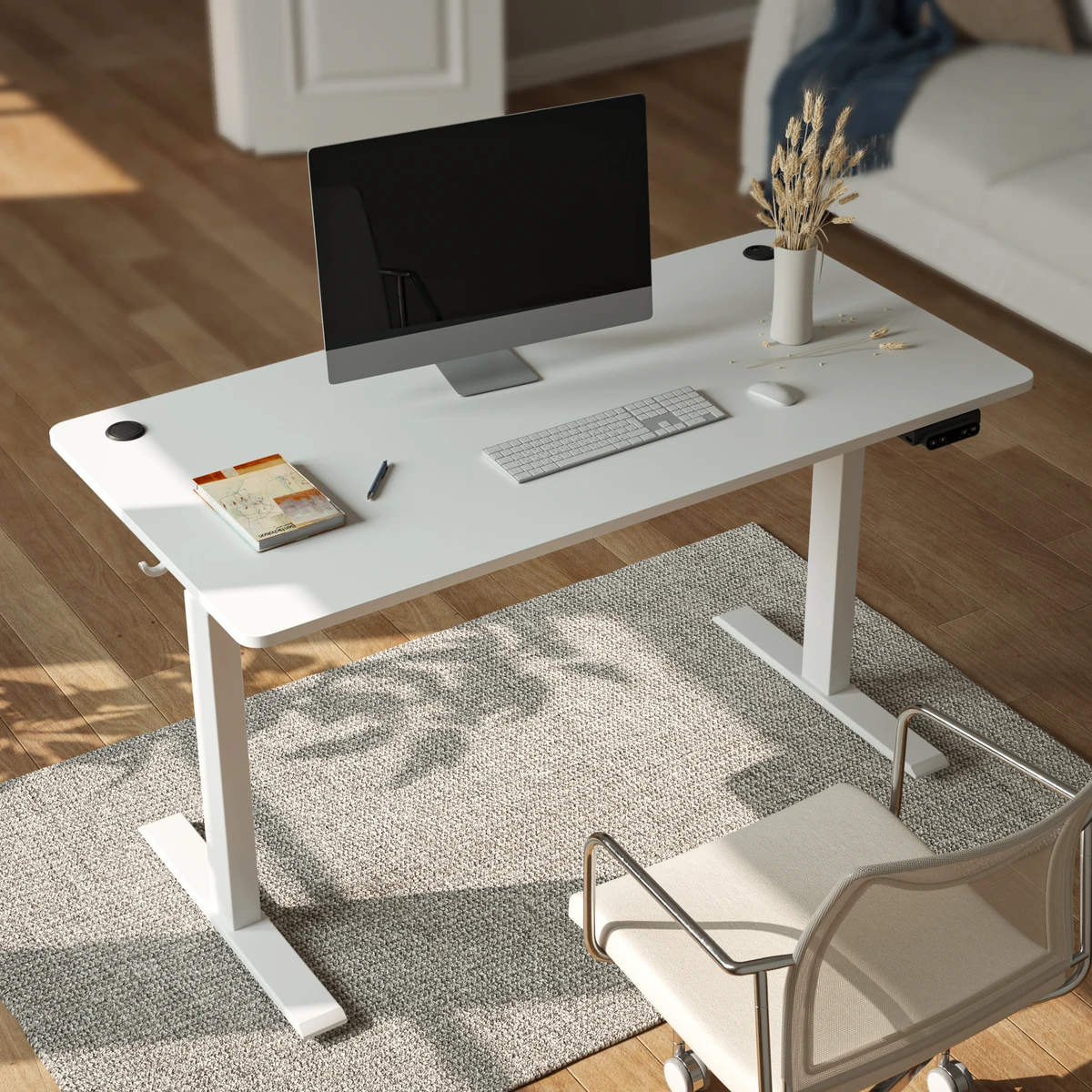 2.What is the adjustable height range of the desk?
This depends on your own height. The height adjustment range of the general adjustable height desk can be applied to most people. Generally, it mainly depends on the height that you need to adjust when you stand up, so that the one you stand is more suitable and comfortable to use. For those with a height of no more than 1.8 meters, there is no problem with the maximum adjustment height of about 48 inches. If the height is more than 1.8 meters, it is best to choose the maximum adjustment degree higher than 48 inches, such as: 51-52 inches.
3.Want electric or manual?
There is also a very important point in choosing a standing table: consider whether you want a manual or an electric one. Electric general tables will have a button next to them that automatically raises and lowers the table at the touch of a button. Conversely, manual is a handle installed next to the table, and the handle is manually cranked to raise and lower the table. In the blink of an eye, I feel that most people will want to choose an electric bar. Where to shake it manually, shake it for a long time.But if you want to move the desk frequently, such as sitting by the window at work, or moving to the living room at night to do other chores while watching TV, it is more suitable for manual movement, which is lighter and easier to move than electric ones.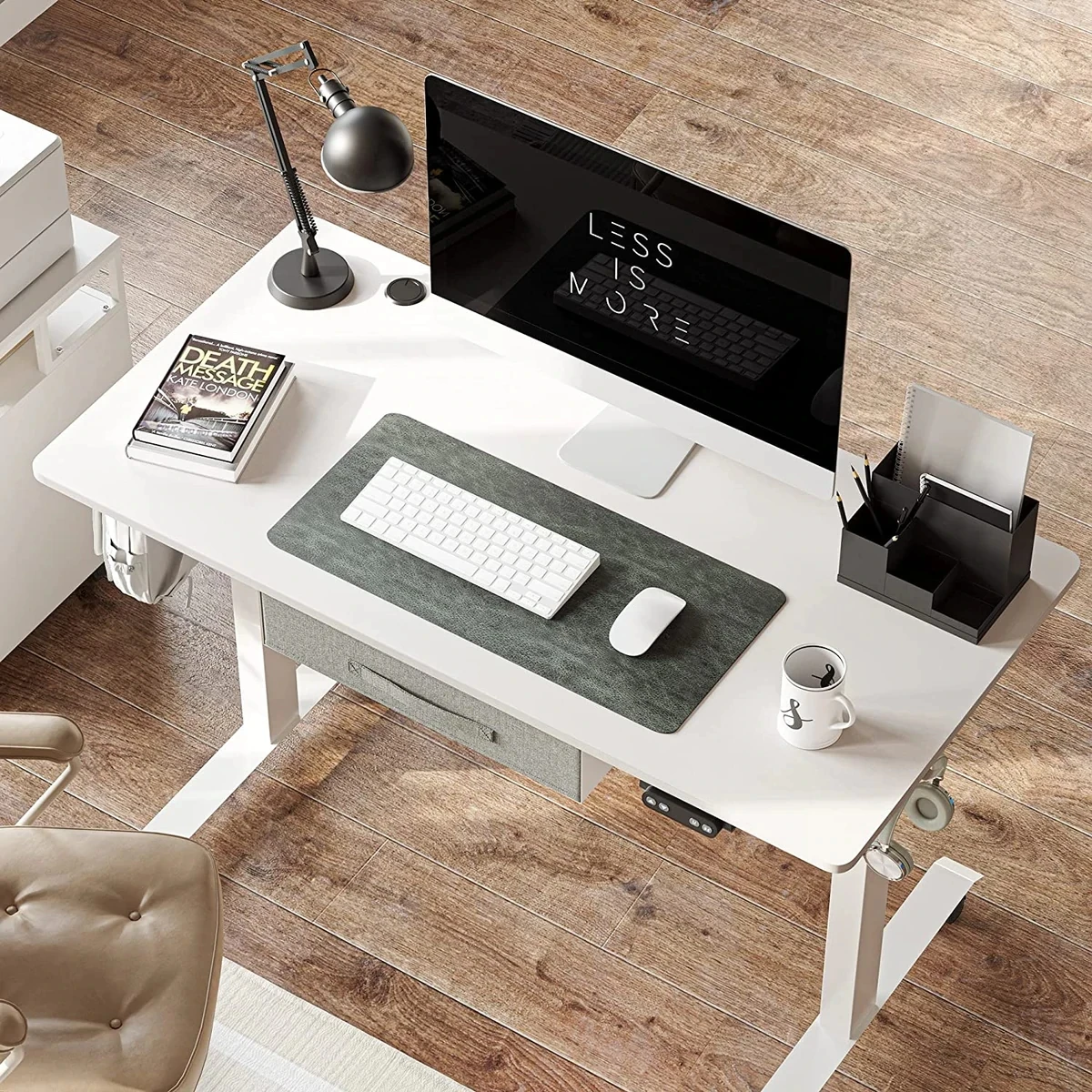 The above 3 are more important and generalized check instructions. In addition, you can also see if the lift table has some additional functions. Advanced electric lift tables may have different height settings, and note the previous height. Record. You can also look at the warranty time, which is a good thing for a long warranty time.
Practical standing desk recommendation
1.Bamboo standing desk
Bamboo desktop board has good physical and mechanical properties, and has the advantages of small water absorption expansion coefficient, not easy to dry crack and deformation, and high stability. Bamboo styles have a natural look, linear to messy line patterns; Bamboo standing desk are sturdy, hard-wearing, hard materials that last for years; Low emissions contribute to a healthy indoor climate.Best of all, the laminate withstands pressure well, is eco-friendly and affordable. Eco-friendly and durable bamboo standing desk tops support sustainable consumption and production patterns. Bamboo's unique texture is a gift from nature, leading us to embrace nature. Calm down, slow down, and enjoy a life-work balance.
Hard-wearing solid wood, super hard and durable table top, up to 275 lbs. (long-term use will not deform). Practical and eco-friendly desktop, one-piece design makes assembly easier and the desktop more sturdy. By offering up to 4 colors and 3 sizes, you can design your desk to your liking to get the perfect desk for your daily work and life. Best of all, the particleboard material withstands pressure well and is environmentally friendly.
3.Glass standing desk
The sturdy tempered glass material resists pressure well and creates a sturdy table top. The elegance of the Elita never goes out of style. 2 convenient USB charging ports (1 USB Type-A, 1 Type-C) integrate into your desk, saving those tangled wires, and 10W charging power keeps your devices powered throughout the day. Featuring a lightweight drawer, the 20.6" x 8.7" x 1.1" lightweight drawer finds a home for your small items so you don't have to worry about accidentally losing them. Keep your desk tidy without taking up too much space. To protect the table from bumps and scratches, the all-in-one glass-top standing desk is equipped with advanced anti-collision sensors. A stabilizing crossbar is included to reduce table shake and allow you to work more comfortably.
The above is the standing desk summarized for everyone, which can better improve cervical, lumbar and back pain caused by long-term bowing work. Of course, the lift table is only an auxiliary item, and everyone still needs to exercise regularly at home! In this way, you can combine work and rest, move your muscles and bones, and work more efficiently!
http://www.roamin.jp/user/article-show-detail/rid/e72813400/